Whenever I go online, I always see stories about entrepreneurs and how they started their business and only a few of those are from the Caribbean. I believe that as Caribbean people we should start documenting our journey in Entrepreneurship and that's why I decided to start the "How They Did It" Series and today I feature Chef Dwight from the Nutmeg Spot Toronto. Chef Dwight talks about his journey as an immigrant to Canada and what led to him starting a successful restaurant with his Wife and business partner. Continue reading below to learn how Chef Dwight did it.
Tell me a little about who you are?
My name is Dwight Darius, born and raised in Felix Park, St. Andrew's Grenada, Pierre Marie to be precise. I was raised, like many other children of migrant parents, by my grandparents. Those who are from the area would remember them as Uncle Mano and Cousin Eileen. I had a happy childhood, full of games, church, getting into mischief, and lots of food and fruit. Things were rough at times, but my grandmother taught me how to make the best out of every situation.
I migrated first to the US and then Canada when I was twelve. With no legal status and unable to attend school, I bounced around in various odd volunteer positions with the City of Toronto until finally meeting a Community Manager at the local Community Center who took a special interest in me and helped me to navigate the school and immigration system.
What is your business about?
I am Head Chef and co-owner of The Nutmeg Spot, a restaurant specializing in Grenadian/West Indian cuisine, products, baked goods and beverages with my wife and business partner. Growing up I always loved being in the kitchen, my grandmother taught me all the basics I know. Food is the ultimate expression of culture, or way of life and I wanted to create a space where I could share my passion and way of life with others but also for my community of Grenadians, a taste of home away from home. At The Nutmeg Spot, it's more than just the food, we also strive to evoke feelings of nostalgia by creating an atmosphere designed to take you back to growing up days. I am happiest when I know my customers are completely satisfied, belly full of good food and laughter. We treat our customers like family!
What were you doing before you started your business?
I bounced around in various odd jobs before starting the restaurant, working both in the construction industry as well as the food industry – no real direction. Later on I started working at a Jamaican food establishment called 'The Patty Shop' and then move on to become a Manager at Shoeless Joe's, a fast food chain. But I always had a desire to share my love of cooking the traditional meals that I grew up loving with others. It's funny how everyone called me Chef – long before I started taking classes and working in the industry. I would always be the one in the kitchen whenever we had meetups as friends.
What inspired you to start your business?
I grew up with a love for cooking instilled in me by my grandmother. She loved experimenting with different local ingredients in the kitchen as well as coming up with new methods of preparing some of our traditional dishes. On Saturday's especially she would have me in the kitchen with her, helping  measure ingredients, mixing flour for baking or tasting the pot for flavor! I love the fact that I now get to share that experience and those recipes with the customers who come in to eat. There is no greater feeling for me than to know I brought joy to someone through my cooking.
I always wanted to start a restaurant but just did not have the right resources or people around me to make that dream happen until I met my wife who encouraged me to invest in my passion. I am also very proud to be Grenadian, so it was only natural that the focus would be to showcase the art of simple Grenadian cooking. It is also a way to bring our people together around something that is cultural for us and that is our food.
Everything about food and cooking is therapy for me. The sounds, the smell, the taste – LOVE.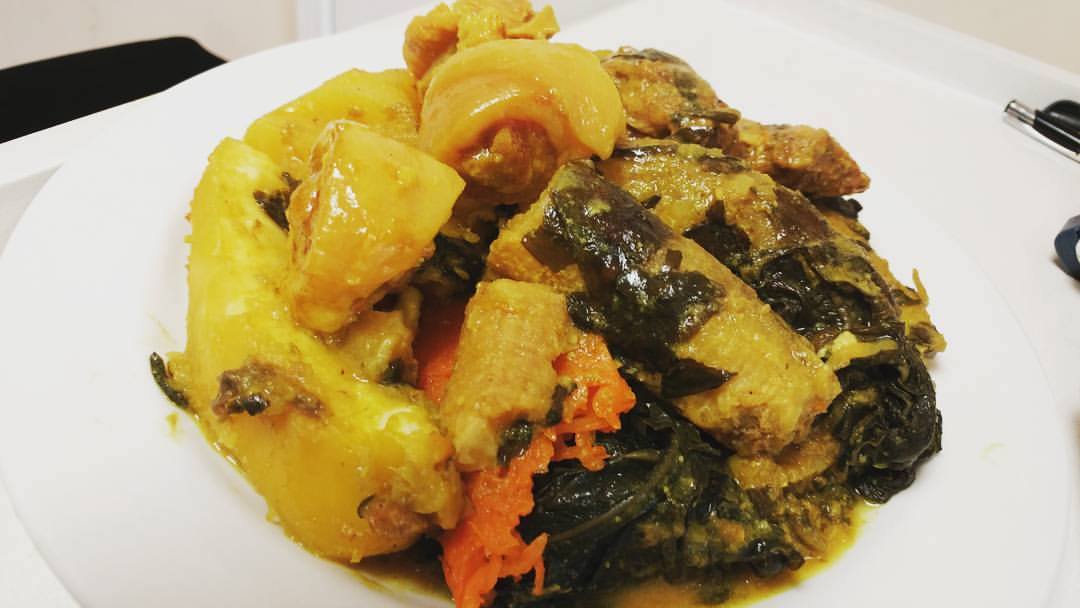 What obstacles did you face in starting your business and how did you overcome them?
When I started, I knew nothing about running the business end of a restaurant, all I knew how to do was to cook. But slowly, through research, trial and error and talking to others in the industry, I started to acquire better business management skills. Patience is also key. Understand that Rome wasn't built in a day and things take time. Still a work in progress but two years in, way better than when I started. We've done some good work to grow a dedicated base of customers
What's next for your business?
I'm looking to do more to highlight and celebrate Grenadian cuisine as its own distinct culinary experience by starting an online conversation about our food and what makes it special. Too often when people think of the Caribbean they only think of Jamaican food. The Caribbean is made up of a range of different flavours and given our unique spices, our culinary palette is distinctly different, and we deserve our own space within that culinary landscape.  We're also in the midst of some renovations now designed to make our business more efficient and able to serve more customers so really excited about that! We're also looking to build the food delivery arm of our business to reach more people.
What is your best advice for young people looking to start a similar business?
Take your time to grow – focus on understanding the business of whatever industry you're in. The food industry is tough with lots of long hours, regulations and understandably so. Do your research, talk to people who are already in the industry. It's one thing to love cooking and making people happy through food but quite another to actually run an establishment, deal with customer service, purchasing, managing vendors, accounting, managing and training staff, menu testing etc
Don't be afraid to take chances and to fail. You're not going to always get it right the first time. Don't do it for the money – follow your passion and the money will come. Good luck! I'm always happy to chat so you can shoot me an email at thenutmegspot@gmail.com or if you live in Toronto, pop by at 1085 Weston Rd. Follow us on Instagram @thenutmegspot or Find us on Facebook @The Nutmeg Spot – Toronto.
Comments
comments